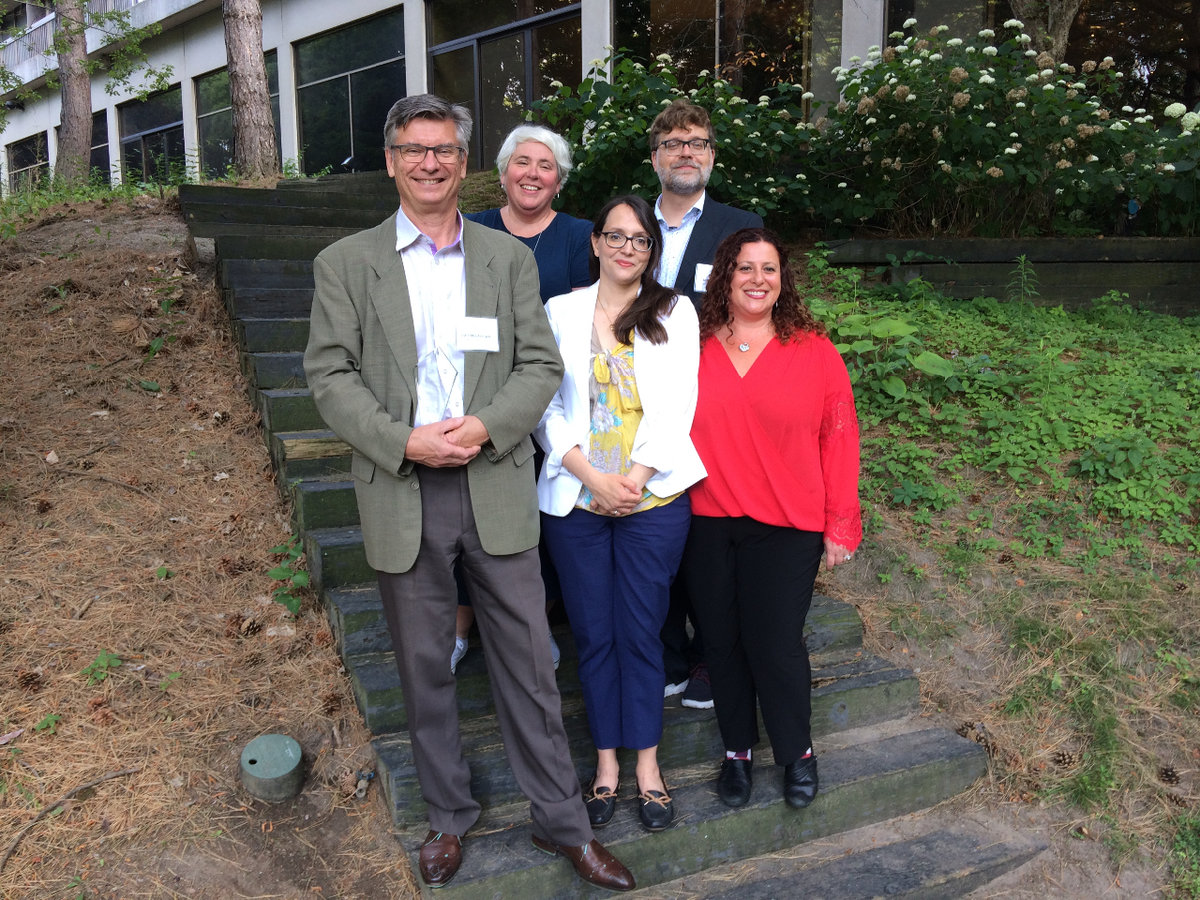 Eastside Branch Design Team
We're pleased to share that the Waterloo Public Library's new Eastside Branch Library has been awarded the 2022 New Library Building Award by the Ontario Library Association (OLA). According to John MacDonald: "These are the awards we cherish, where clients and their community confirm that the performing facility meets their needs, inspires their use, and validates the trust they have placed in us."
Commitment to community development, architectural & technological innovation, and creative advancements that emphasize local connections are important aspects that are embodied by the recipients of the New Library Building Award. The award aims to encourage and showcase excellence in the design of new libraries located in Ontario. The award presentation was made at the OLA Annual Institute on the Library as Place event, on July 7, 2022. The recently opened 15,000 sq ft. expansion and renovation of Waterloo's Manulife Sportsplex was designed by a joint venture between JMA and ward99 architects of Vaughan, working collaboratively with WPL leadership and the City of Waterloo's Facilities team.
From the jury: "The architects delivered on the commitment to a green, nature-inspired facility with the new Eastside Branch of Waterloo Public Library. Thoughtful site placement combined with a striking design and the use of appropriate materials results in a facility that fulfills the community desire for an 'eco location'. Designing and constructing a building that is awash in natural light enlivens a previously utilitarian recreation complex. I cannot wait to see the range of eco-literacy programming that leverages the Naturespace - the interaction between toddler and teaching beehive is of particular interest." - Darcy Glidden, Manager of Community Libraries, Barrie Public Library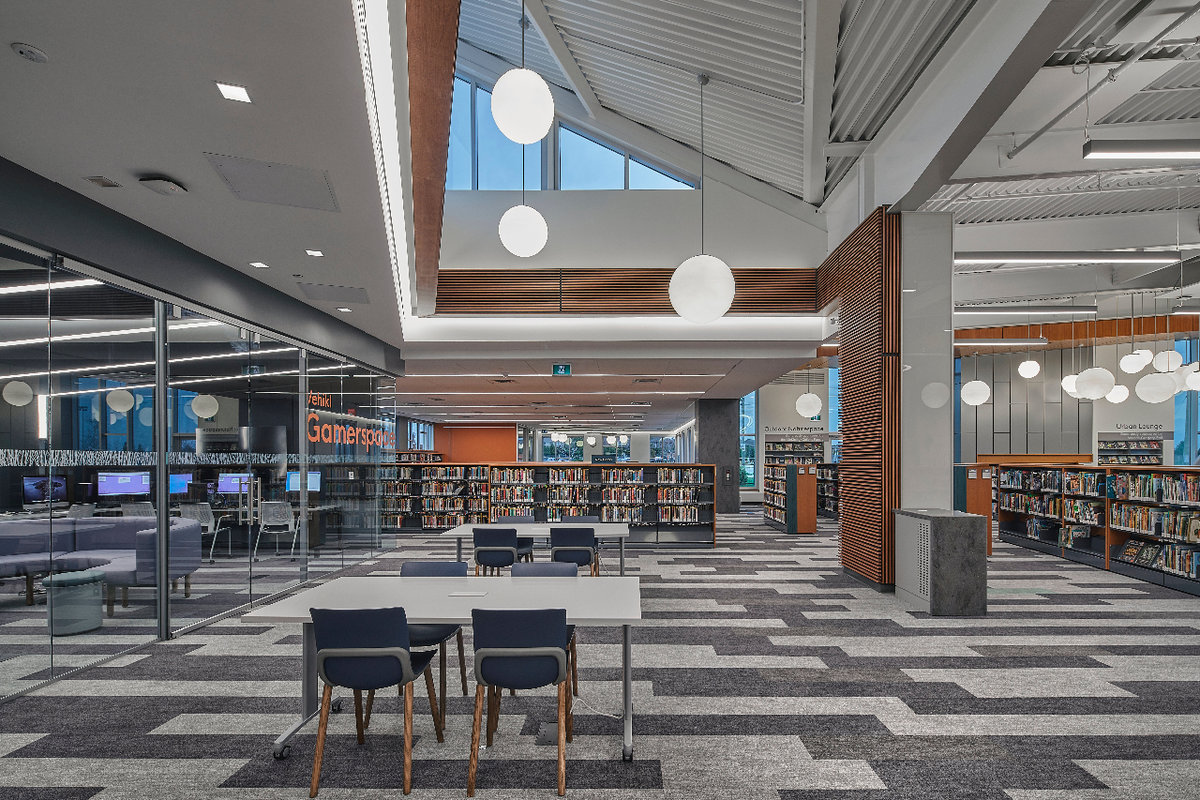 Eastside Branch (Photo Credit: Steven Evans)
In addition to holding a collection of about 35,000 books, DVDs and magazines, the accessible one-storey Library contains a soundproof room for activities such as podcasting, a digital room for gaming, space for creative collaboration, two quiet study rooms and sit-down counters with power and USB outlets. It is also home to a fireplace, and a fenced exterior space which connects patrons and programs with the environment. A recent addition to this outdoor space is a teaching beehive, home to over 7,500 bees. The growing hive will assist Library staff with programs and workshops for people of all ages centred around teamwork, food production and environmental stewardship. Numerous environmental features are present in the Library, including a roof that can support solar panels in the future, and a solar wall that preheats ventilation air during the winter.
The Eastside Branch's design successfully balanced the City of Waterloo's goals for project cost with its aspirations for a high-performance building and leading edge architectural expression. It fits seamlessly with the existing 300,000 sq. ft. recreational facility, A key benefit is a reduction in overall vehicle trips, as the site now supports a wider range of public uses. A family might now easily visit the Library following a soccer game or a walk on nearby trails.
The project is another opportunity for the staff at JMA to help shape our community's future, to create inspiring infrastructure which supports that journey, and to address the sustainable building challenges faced by municipalities as they set the standard for quality in our built environment.
Most importantly, the design team has been pleased with the overwhelming public response to the new facility. Feedback received has included comments about how cheerful and "optimism infused" the space feels. Others shared how both the openness and the innovative use of lighting create a welcoming space, optimal for a public facility. As Shelagh Paterson, Executive Director of the OLA noted: "Libraries are critical for their communities. They are a space for gathering, learning, and collaboration and great library design is critical to these experiences."