"Cities have the capability of providing something for everybody, only because, and only when, they are created by everybody." – Jane Jacobs
Every year citizens in cities across the globe gather to participate in organized walking tours in honour of Jane Jacobs. Jane was an activist and writer who introduced the world to ground-breaking ideas about community-based approaches to city building. She believed that it is important for local residents to become familiar with their neighbourhoods and have input on how their neighbourhood develops. Jane's Walks are hosted each year on the first weekend of May and focus on a variety of themes relevant to the local planning, history, people and culture of the city in which the walks take place.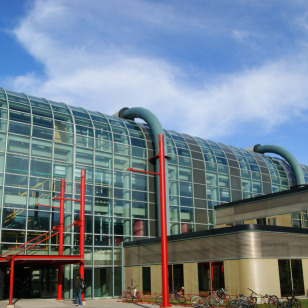 John and Margaret set out to join our neighbours in Kitchener and Waterloo to experience two of the many Jane's Walks our region had to offer.  The first tour explored the history of the Math and Computer Science Department at the University of Waterloo. This indoor tour of the campus buildings was a welcome retreat from the rain for the group of math and technology enthusiasts who had gathered to learn and walk together. John and Margaret returned with a number of fun facts to share with the office, including that the original computer used by the Math and Computer Science Department cost more than the building it was housed in and yet it was less powerful than a cell phone!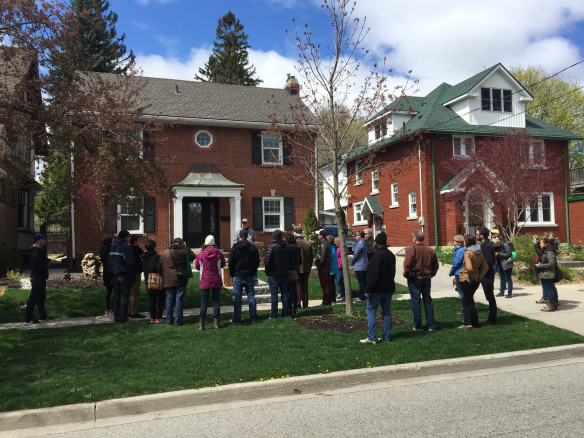 The second tour brought John and Margaret to Kitchener's historic Central Frederick Neighbourhood. As they walked through the neighbourhood their guide James Howe, a local resident, wove in tales of past community members and how they shaped Kitchener as we now know it.  The narratives of three different women, all born when Kitchener was still the City of Berlin, hold a particularly strong grasp on the Central Frederick Neighbourhood. Anna Kaljas, once a refugee herself, devoted her life to providing shelter to vulnerable populations within her community. Her legacy is one that remains strong in Kitchener today. Another notable Frederick resident is none other than Edna Staebler. Staebler won many awards including the Order of Canada for her books, which provide a colourful record of the Mennonite-inspired local KW cuisine. Finally, the legacy of another author B. Mabel Dunham was explored. Dunham pursued an education in library science and became the first trained librarian to be in charge of a public library in Ontario. She held the post of librarian of the Kitchener Public Library from 1908 until her retirement in 1944. The impact that each of these women had on enriching the quality of their community perfectly embodies the values of Jane Jacobs.
JMA would like to extend our sincere thanks and appreciation to all Jane's Walk organizers and participants. If you would like to participate or host a Jane's Walk tour next year, or learn more about Jane's Walk, please visit http://janeswalk.org/.