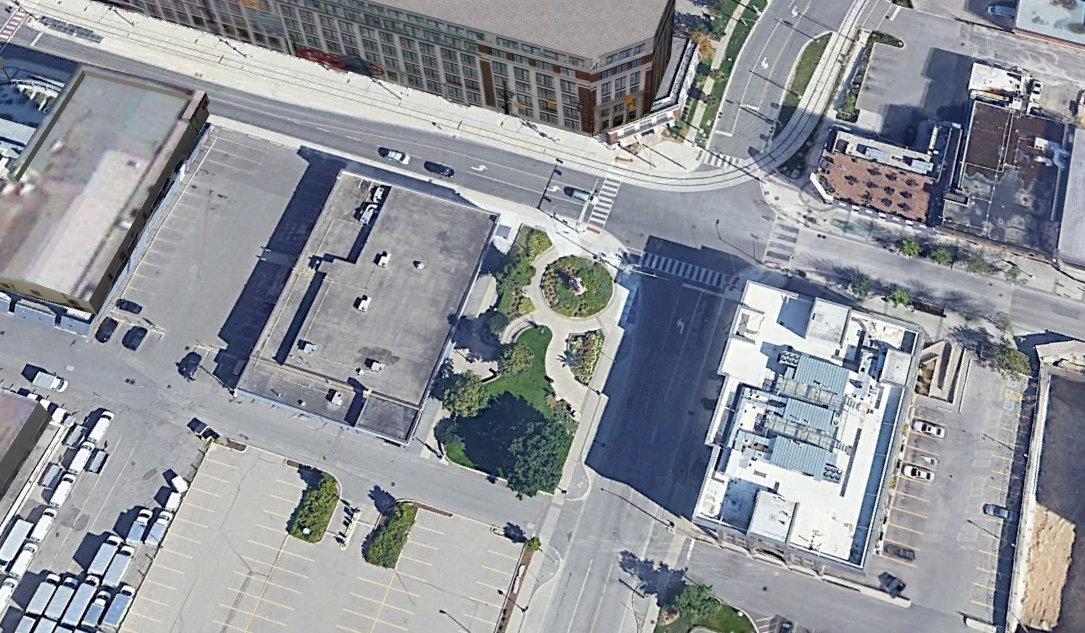 Francis Green - Google Earth
Our staff occasionally assemble on Friday afternoons for an office exercise we call Things We Like. Centred around a theme determined earlier in the week, staff are invited to share examples of relevant things they enjoy. Since our first Things We Like in 2016, our staff have participated in 75 of these exercises. Some themes are intended to generate ideas for projects we're working on, while others are simply intended to encourage creativity and generate discussion about things we'd like to see in our community.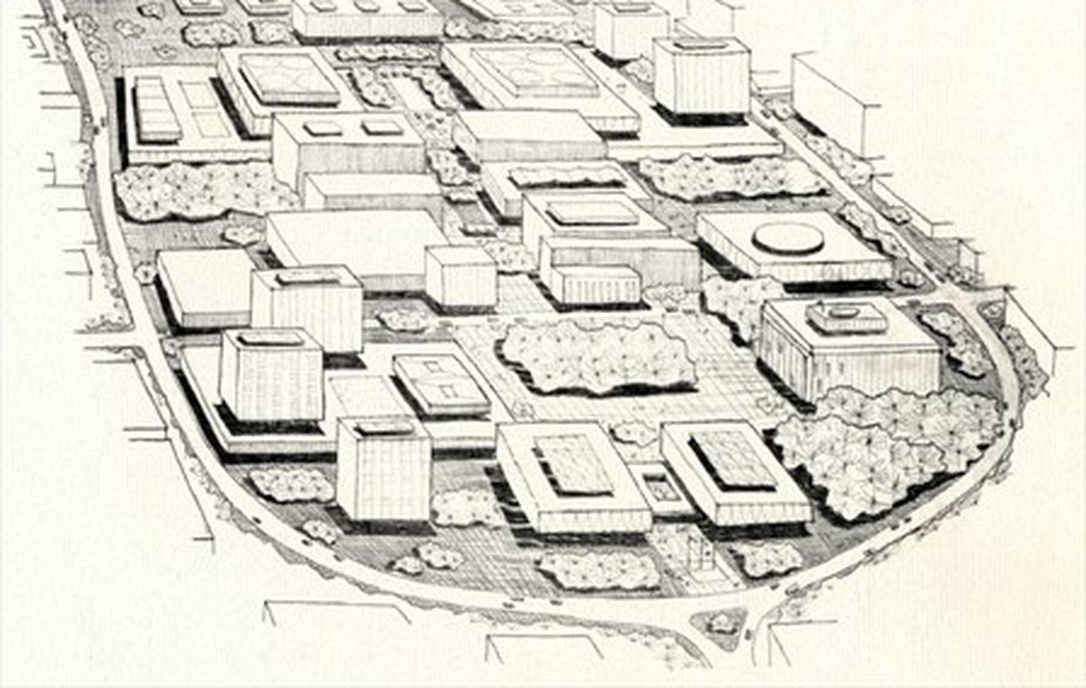 Preliminary Sketch of Downtown Kitchener, 1965 - Toronto Star
In May 2018, we met to reenvision Francis Green, the public space located at King and Francis in downtown Kitchener. This prominent corner where the northbound Ion route returns to King St. is home to Ziggy's Cycle and the Kaufman Lofts. Francis Green is a remnant of the 1960's plan to envelope the Downtown in a one way "ring road" system, and once had a broad sweeping traffic curve that cut through the site to join King to Francis and Charles. Abandonment of this plan left the small public space we know today. As our Downtown attracts condo and tower development this little piece will need to serve the needs of local residents and contribute to the unique identity of downtown Kitchener. Several years after our office exercise, a developer of a nearby planned condominium tower has promised to upgrade this public space, so we thought this would be an appropriate opportunity to share our ideas. 
Ashley envisioned the introduction of a new focal point, such as a large fountain facing King Street. This could be partially surrounding by circular seating, encouraging people to linger and socialize. A relevant local example is The Family fountain, a landmark in Guelph's vibrant downtown. It isn't uncommon to encounter youthful and diverse crowds enjoying this popular spot, especially during the warmer months. Inspiration also came from the parkette in downtown Elora, on the corner of Mill and Metcalfe, which features bright red Muskoka chairs located on a circular path around some plants and large rocks, a reference to the nearby gorge. An assortment of sculptures located throughout the parkette also encourage exploration. 
Maria's vision was of a colourful public space, similar to Miami's Wynwood Walls or the City Lounge in St. Gallen, Switzerland. This might feature modern or futuristic seating that is inviting and comfortable, coupled with an open grass space for play or summer lounging. The space would be complete with vibrant murals and interesting shapes. It could even be accompanied by a colourful crosswalk. 
An alternative vision came from Mila, who suggested creating a European-style terrace that invited the public to linger and socialize thanks to umbrella-shaded outdoor patio tables on classic brick or cobblestone. Plants would compliment the space, as would a variety of trees which would offer additional shade.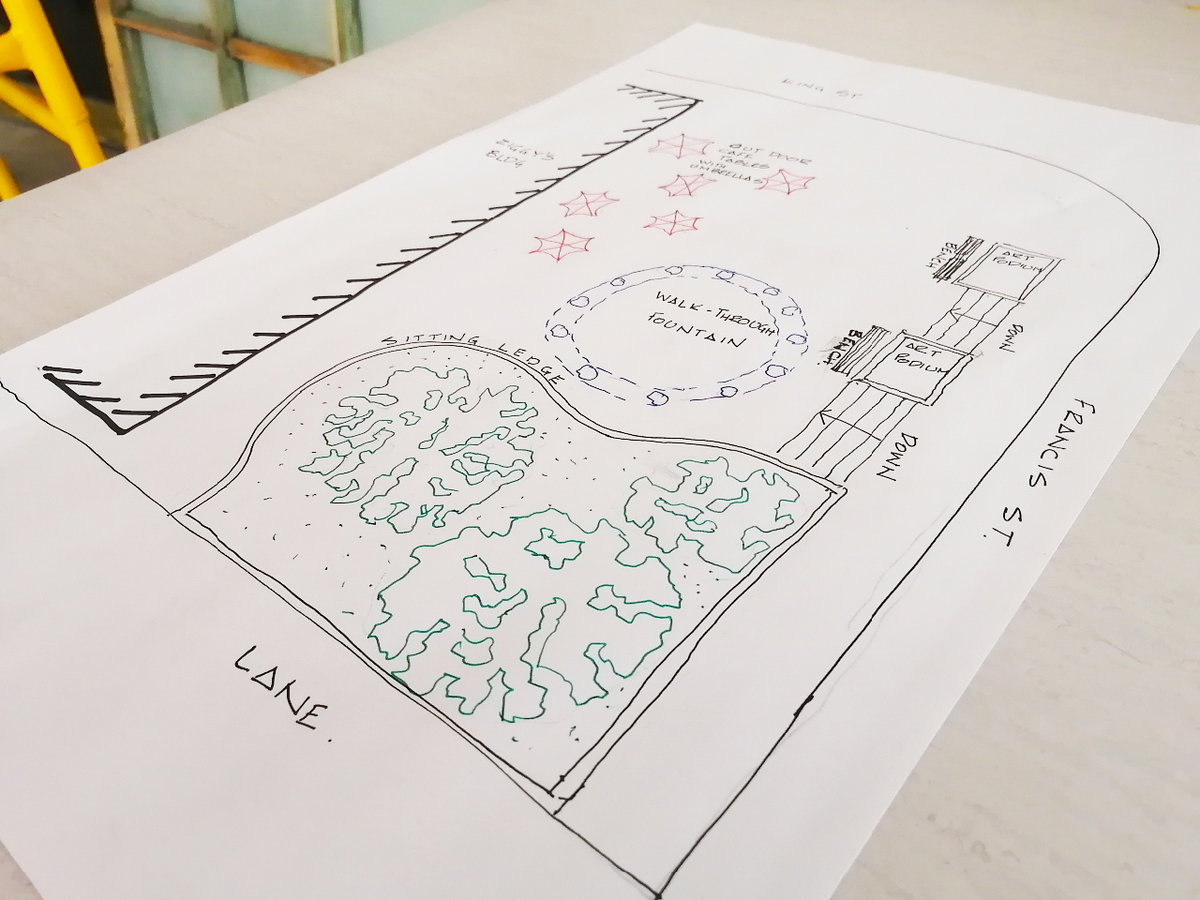 Margaret's Vision For Francis Green
Margaret envisioned a more accessible and family friendly space that preserves existing trees and would have level access with King Street. The square would drop down a few steps from Francis to create a more expansive space overall, centred around an impressive walk-through fountain. Entrances to adjacent businesses would face the square, allowing foot traffic to spill into the space. Along Francis, sculptures would be accommodated on podia along the new steps, to complete the welcoming and timeless environment.
What do you think? What would your ideal Francis Green look like?